Regular price
Sale price
€21,00 EUR
Unit price
per
Sale
Sold out
Desfruta do sol com o Óleo Bronzeador Corporal CharmMy, que proporciona um tom bronzeado natural saudável e duradouro, ao mesmo tempo que hidrata e nutre a pele para um bem-estar completo.
O Óleo Bronzeador Corporal, contém Óleos Vegetais Ricos em Carotenos, como Óleo de Urucum e Óleo de Cenoura, que proporcionam uma pele bronzeada enquanto a nutrem e hidratam. Contém ainda Antioxidantes, como Vitamina E, que ajudam a proteger a pele dos danos dos radicais livres provenientes da radiação solar, prevenindo-a do envelhecimento precoce.

Ingredients

Óleos de Urucum e Cenoura, Vitamina E.
Care Instructions

Aplicar uniformemente uma quantidade suficiente na pele do corpo antes da exposição solar. Reaplicar o produto sempre que necessário. Não colocar em pele humedecida e evitar a aplicação nas mucosas. Utilizar protetor solar antes da aplicação do óleo bronzeador. Agitar antes de usar.
Fragrancy

Perfume com notas de topo, à Cítricos e Pêssego, notas de coração à Peónia, Pétalas de Rosas e Água de Rosas, e notas de fundo à Almíscar branco e Baunilha.
Special cares

After opening, the shelf life is 6 months. Avoid eye contact. In case of contact, rinse immediately and abundantly with water. Keep out of the reach of children. Perishable or sealed product for hygiene and safety reasons. See information about restrictions on the possibility of returns and guarantees in the General Conditions of Sale.
Share
View full details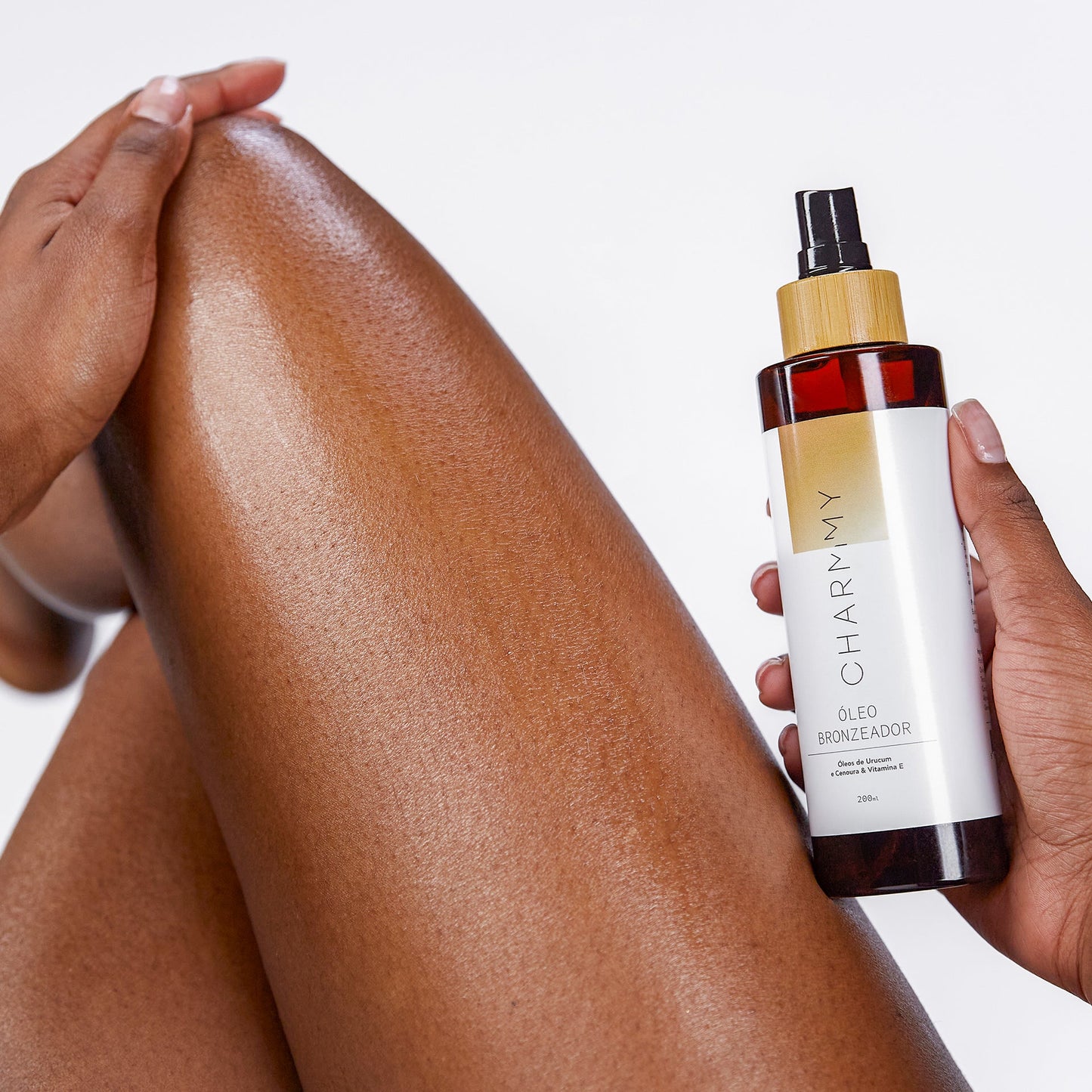 Do you already know our packs?
Thinking about making your life easier, CharmMy already has packs of products for your daily beauty routine, be it your face, body or hair. Not forgetting the essentials for the beach!