Regular price
Sale price
€42,50 EUR
Unit price
per
Sale
Sold out
Para um cuidado completo do teu corpo! Creme Hidratante Corporal, Óleo Corporal Glow, Esfoliante Corporal.
Ingredients

Creme Hidratante Corporal - Manteigas de Karité e Cacau, Óleos de Coco, Grainha de Uva e Amêndoas Doces.

Óleo Corporal Glow - Óleos de Urucum e Cenoura, Vitamina E.

Esfoliante Corporal - Sal de Mar Morto, Caroço de Pêssego, Manteiga de Karité e Óleos Vegetais, Óleo de Amêndoas Doces, Óleo de Jojoba e Óleo de Grainha de Uva.

Dimensions

Esfoliante corporal – 200g
Creme hidratante corporal -200ml
Óleo corporal glow -100ml

Care Instructions

Para um cuidado completo do teu corpo!

Primeiro aplicar o Esfoliante Corporal na pele humedecida do corpo e massajar suavemente com movimentos circulares e ascendentes durante 5 a 10 minutos. Após a aplicação, enxaguar a pele.

De seguida, aplicar o Creme Hidratante Corporal e repetir a aplicação sempre que necessário para uma maior hidratação da pele.

Para terminar, aplicar uma quantidade generosa do Óleo Corporal Glow no corpo e espalhar, massajando.


Fragrancy

Perfume com notas de topo, à Cítricos e Pêssego, notas de coração à Peónia, Pétalas de Rosas e Água de Rosas, e notas de fundo à Almíscar branco e Baunilha.
Special cares

Após abertura, o prazo de validade é de 6 meses. Evitar o contacto com os olhos. Em caso de contacto, passar imediatamente e abundantemente por água. Manter fora do alcance das crianças. Produto perecível ou selado por razões de higiene e segurança. Veja informações sobre limitações à possibilidade de devolução e garantia nas Condições Gerais de Venda.

Share
View full details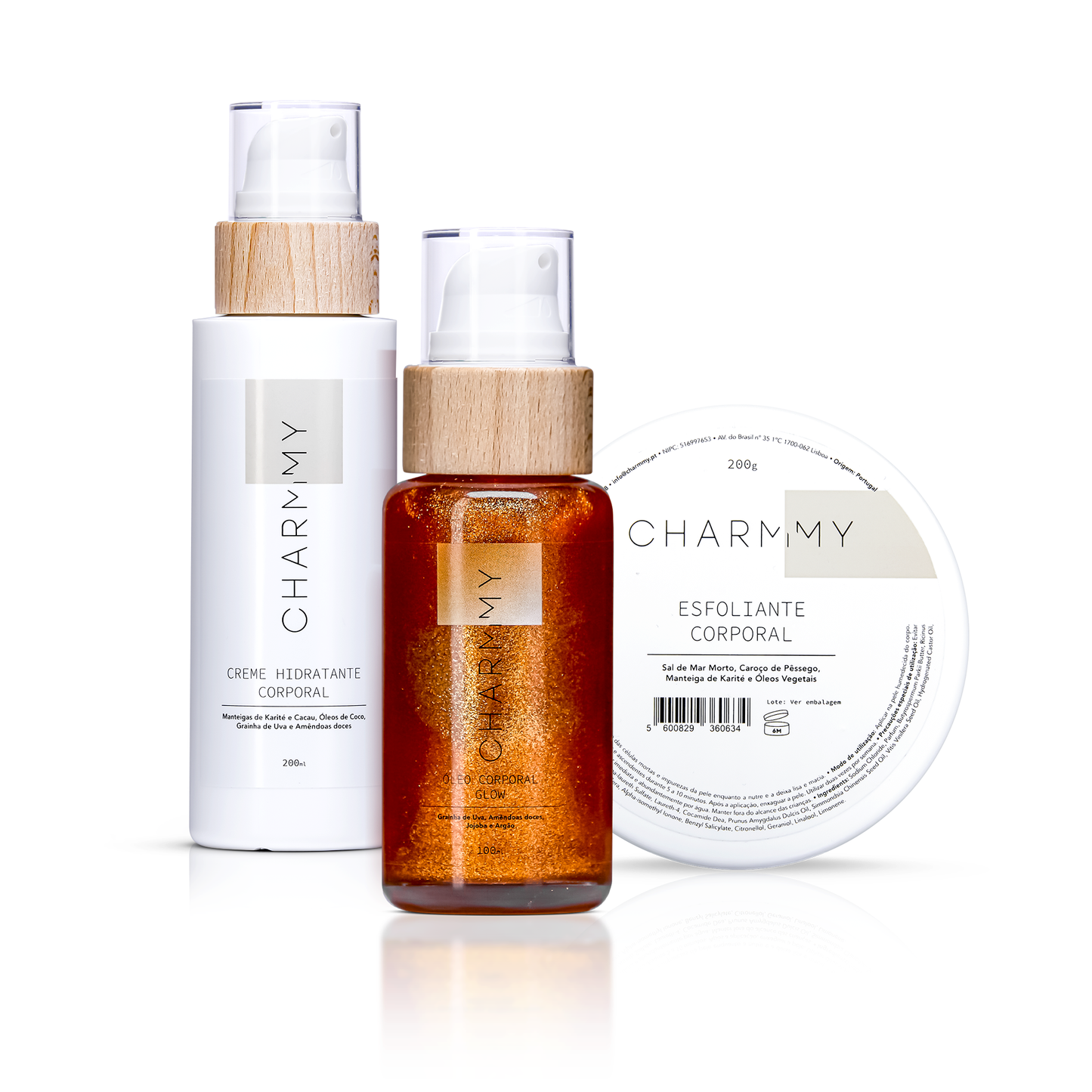 Do you already know our packs?
Thinking about making your life easier, CharmMy already has packs of products for your daily beauty routine, be it your face, body or hair. Not forgetting the essentials for the beach!