Regular price
Sale price
€53,55 EUR
Unit price
per
Sale
Sold out
Para um tratamento completo e contínuo, crie o seu cronograma capilar. Uma rotina de cuidados com o cabelo, baseada em tratamentos capilares, personalizada de acordo com a necessidade do teu cabelo, de forma a garantir um cabelo saudável e bonito. Composto por Máscara de Nutrição, Máscara de Hidratação e Máscara de Reconstrução.
O cronograma capilar consiste em 3 etapas: hidratação, nutrição e reconstrução, organizados com base num calendário de lavagens. O objectivo é repor nutrientes perdidos (água, gorduras, proteínas e aminoácidos) para suprir a necessidade dos fios.

O objectivo da Hidratação é repor a água perdida e nutrientes essenciais aos fios, evitando que fique ressequido.
O objectivo da Nutrição é repor os lípidos que ajudam a manter a hidratação nos fios e o objectivo da etapa da Reconstrução é repor a massa na fibra capilar, ou seja reconstruir a fibra capilar, tornando os fios mais densos e resistentes.
Ingredients

Máscara de Hidratação - Extratos de Mirtilo e Caviar, e D-Pantenol.

Máscara de Nutrição - Manteigas de Karité e Cacau, Óleos de Argão, Abacate e Jojoba.

Máscara de Reconstrução - Queratina Hidrolisada, Aminoácidos e Glicoceramida.


Care Instructions

Após lavagem do cabelo com o champô hidratante, aplicar a máscara, de acordo com o cronograma capilar, no comprimento do cabelo limpo e húmido, insistindo nas pontas.
Deixar atuar por 5 a 10 minutos, com auxílio de uma touca/capa plástica. Enxaguar e finalizar como de costume.
Fragrancy

Perfume com notas de topo, à Água de Coco e Caramelo, notas de coração à Jasmim, Hibisco e Lírio do Vale, e notas de fundo à Almíscar, Baunilha e Âmbar seco.
Special cares

After opening, the shelf life is 6 months. Avoid eye contact. In case of contact, rinse immediately and abundantly with water. Keep out of the reach of children. Perishable or sealed product for hygiene and safety reasons. See more information about restrictions on the possibility of returns and guarantees in the General Conditions of Sale.
Share
View full details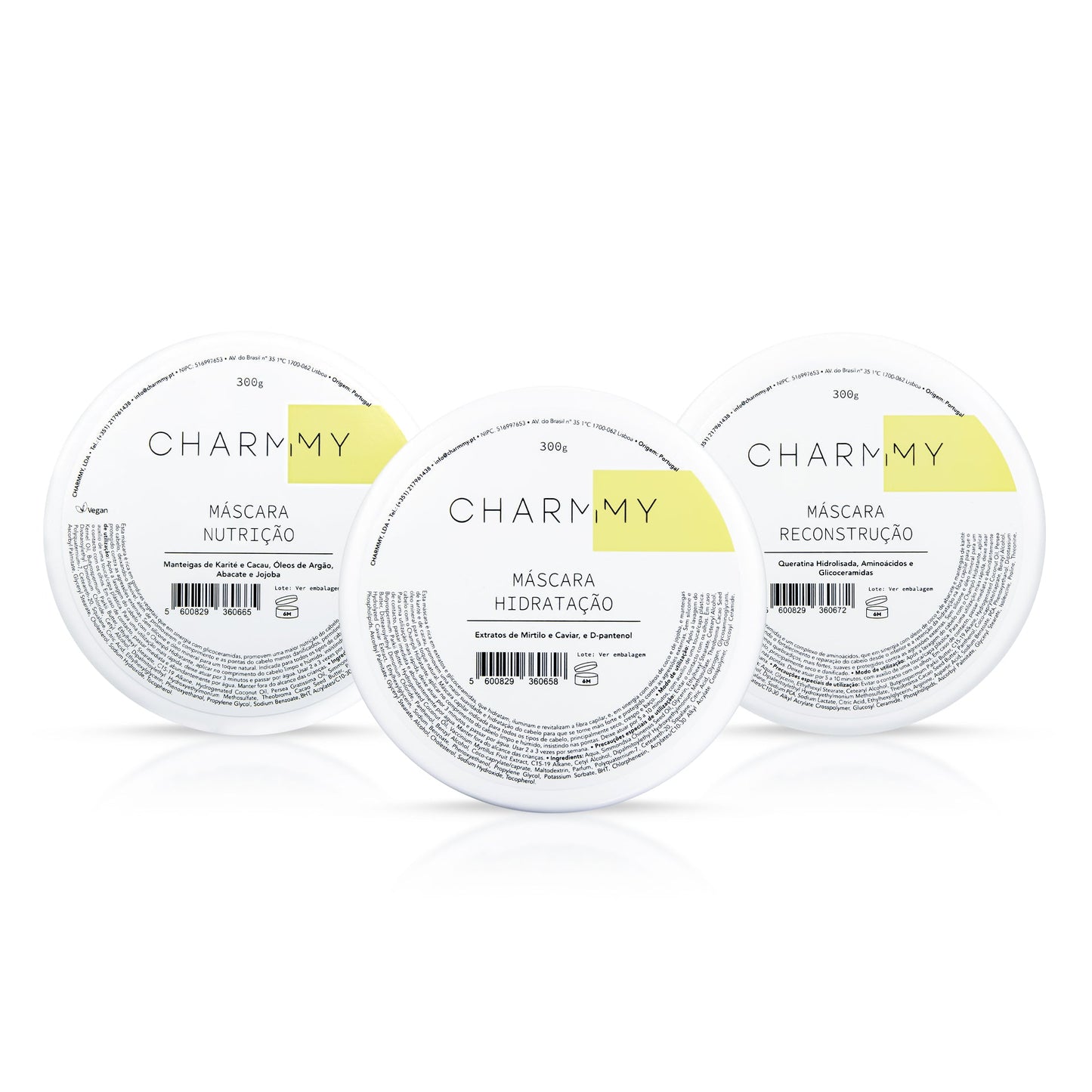 Do you already know our packs?
Thinking about making your life easier, CharmMy already has packs of products for your daily beauty routine, be it your face, body or hair. Not forgetting the essentials for the beach!