Regular price
Sale price
€34,85 EUR
Unit price
per
Sale
Sold out
Champô Hidratante, Condicionador Leave In e Creme 2 em 1.
Ingredients

Champô Hidratante - Extrato de Aloe Vera, Glicoceramidas, Queratina, Aminoácidos e Complexo Biológico.

Condicionador Leave In - Extrato de Aloe Vera, Manteiga e Óleos Vegetais, Óleo de Argão, Óleo de Abacate e Manteiga de Karité e Glicoceramidas.

Creme 2 em 1 - Extratos de Caviar e de Maçã, Óleos e Manteigas Vegetais, Óleo de Oliva, Óleo de Jojoba, Manteiga de Karité e Manteiga de Cacau e Glicoceramidas.
Dimensions

Champô Hidratante e Condicionador Leave In -250 ml
Creme 2 em 1 - 200 gr
Care Instructions

Ao utilizar o Creme 2 em 1 como Creme Pre-Poo deves aplicar o creme antes do champô, no cabelo húmido, desde a raiz até as pontas, massajando bem. Deixar atuar durante 3 minutos e enxaguar. E utilizar uma vez por semana.

Depois, aplicar o Champô Hidratante no cabelo molhado, massajando suavemente o couro cabeludo com as pontas dos dedos. Espalhar o champô da raiz às pontas. Deixar atuar e enxaguar.

Depois aplicar uma pequena quantidade do Condicionador Leave In no cabelo seco ou húmido, sem enxaguar. Pode ser utilizado após o banho, no cabelo húmido, para ajudar a desembaraçar ou no cabelo seco para uma maior hidratação e controlo do frizz.

No final, utilizar o Creme 2 em 1 como creme de pentear, aplicando uniformemente no cabelo molhado desde a raiz até às pontas. Desembaraçar o cabelo usando uma escova. Secar e pentear o cabelo.
Fragrancy

Perfume com notas de topo, à Cítricos e Pêssego, notas de coração à Peónia, Pétalas de Rosas e Água de Rosas, e notas de fundo à Almíscar branco e Baunilha.

Special cares

After opening, the shelf life is 6 months. Avoid eye contact. In case of contact, rinse immediately and abundantly with water. Keep out of the reach of children. Perishable or sealed product for hygiene and safety reasons. See more information about restrictions on the possibility of returns and guarantees in the General Conditions of Sale.
Share
View full details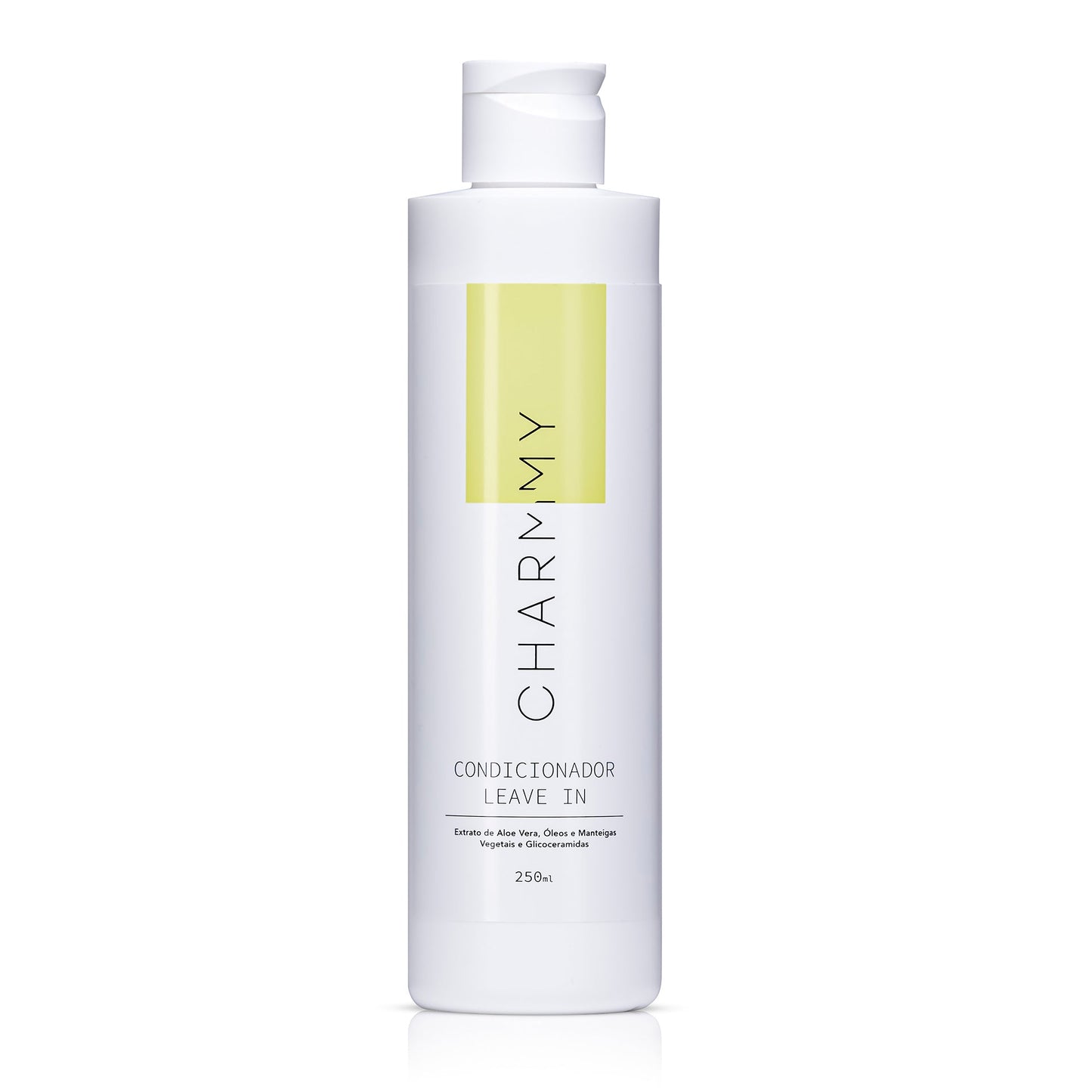 Do you already know our packs?
Thinking about making your life easier, CharmMy already has packs of products for your daily beauty routine, be it your face, body or hair. Not forgetting the essentials for the beach!